Norwood stage
Below is an overview of the different Norwood stage of hair loss, also known as "Male Pattern Baldness Type" These stages are defined below for your information. A small group of roots is transplanted one by one from the donor area during a FUE hair transplant (Follicular Unit Extraction). In most cases from the back and sites from the head to the target area. The target area can differ but are known as the receiving area. The FUE treatment method takes about 6 to 8 hours. In one session, a maximum of around 4000 grafts (1 graft is on average 2.5 hair) are transplanted. If you need more grafts than that, this will be done in multiple sessions (days).
Type 1 Norwood is a full head of hair without any form of hair loss and does not require treatment.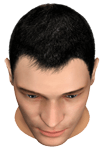 Men with Norwood stage 2 suffer from small inlets. A small hair transplant can easily fill these coves. Men who have Type 2 hair type get a hair transplant advised of between 800 and 1200 grafts the costs will be low in such a case.
Men with Norwood stage 3 hair loss suffer from deep inlets. Here a hair transplant is recommended between 1000 and 1400 grafts
Norwood stage 4 is about the same as Norwood stage 3 with the difference that the front also is becoming bald. Therefore we recommend between 1500 and 2000 grafts.
Men with Norwood stage 5 have a greater form of baldness. So the coves are significant and there is an enlarged crown that is now exposed. We recommend between 2000 and 2500 grafts.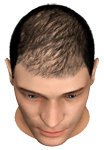 Men with Norwood stage 6 have a full head of hair thinned at the top of the head. Therefore we recommend between 2500 and 3000 grafts.
Men with Norwood stage 7 are over the entire surface bald. Therefore, to complete this type of baldness in one treatment, the number of grafts that is required is around 3000 and 4000.
Norwood stage for women is sometimes balding on the top of the head or in the hairline. Most women lose hair all over the skull and getting thinner hair when they become older. The number of grafts depends on their personal situation.
We offer a free consultation by means of photos, we can make an individual quote for you. So please fill in the contact form and add requested photos.